Our vibrant and informed School Board consists of business and community members, parent and staff representatives, including the principal. The School Board meet regularly to discuss and ratify the Business Plan and Workforce Plans, approve the budget and participate in decision making such as the future direction of the school, marketing the school in the community, dress code and development of facilities and buildings.
Parents are encouraged to nominate for the school board as vacancies arise.
SCHOOL BOARD MEMBERS 
Please click below to enlarge Board information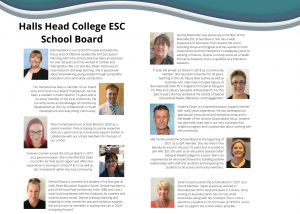 SCHOOL BOARD MEETINGS FOR 2023
Monday 27th February
Monday 27th March
Monday 19th June
Monday 11th September
Monday 3rd December
The School Board meets at 5.30pm and if you have any enquiries our Chairperson is willing to be contacted on (08) 9581 0613 if you have any ideas or comments in regard to the Education Support Centre.